-

Behind The Loom – Four Decades Of Weaving

-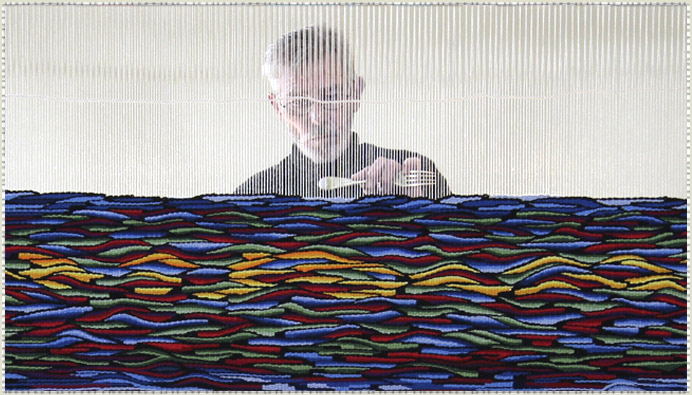 Dr. Margaret Grafton talks about Graeme Endean…
(Written – 2003)
For 29 years Graeme Endean has worked in the medium of tapestry weave, a grid-like structure woven with the hand and fork on the vertical loom.  His tapestries reflect an enduring interest in Australian Aboriginal history, culture and an empathy with Koori politics.
Graeme's most rare and special quality in the tapestry field is how he thinks up, conceptualizes and weaves his own tapestry. This cannot be emphasized too strongly.
Of the few artists in Australia working on the loom as a direct form of expression in this medium, there would be few or any practicing with this level of skill and persistence in their own studio and on their own conceptual imagery.  This procedure is contrary to established ideas about tapestry weaving, that the purpose of the medium is to reproduce and perhaps enhance the works of painters, who then claim the tapestry as their own.
Graeme is able to weave a pictorial notion, and complex weaverly shapes, immediately and directly into the warp.  The capacity is to hold mental imagery and to transcribe mental imagery centimeter by centimeter, with coloured wools into a linen warp, without cartoon backup,  is most rare.
He does not resort to any form of copying, nor to a cartoon or a sketch.  From this intensity and holding to the possibilities of the loom for the weeks or months of weaving,  Graeme is producing finely woven tapestry of a uniquely weaverly character owing no allegiance to the art of the painter.
The woven, woollen and finely beaten surfaces of Graeme Endean's works glow with a depth of colour.  The quality and integrity of his woven tapestries approaches an aesthetic and skill along with the best medieval tapestry work.
Dr. Margaret Grafton – Master Weaver


Graeme is available for commissions
If you are interested in the works on this site please use the Contact Page to make an enquiry.
HWT – Fork Image